Chocolate panel wedding cake
SKU: [ wed-243 ] Cake size approx (12″ 10″ 8″ 6″ 4″)
Approx portions (180)
Available in a range of dark, milk or white
Chocolate panel wedding cake. A beautiful 5 tier white Belgian chocolate panel wedding cake with fresh red roses. Laid out on a 14″ board which is decorated with white fondant together with a few fresh rose petals and finished off around the edges with matching silk ribbon.
Each tier is separated with beautiful fresh red roses, giving the illusion that the tiers are actually sitting on the roses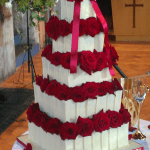 themselves. Every rose is individually cut to fit in-between each of the tiers. On the top tier we have placed a bump of red roses and wrapped the bump in matching ribbon which is draped over the cake.
Every chocolate panel on this cake is individually cut to size to ensure it matches the tier it is surrounding perfectly. The whole cake sits on a cake table which we also decorate (included in the price) with fresh and iced red rose petals. The cake is available in any flavour sponge or other type of cake that we offer (such as Jamaican fruit, Carrot cake) at no extra cost.
This wedding cake, like all of our cakes, was delivered in person to their chosen venue in London and set up at the venue. The prices on all our cakes include (where applicable) delivery charge, cake table dressing, hand iced flower spray for the cake knife and delivery.
Please note decorations may vary slightly as each cake is baked individually.
Roses are included in the price.
Price for this cake (As in image) £550.00
Use the form below to order online, or if you prefer speak to or email us direct.