Cadillac Cake 1929 Lasalle
SKU: [ bir-329 ] Cake size approx. 11 x 5 inch
Approx. portions   25-30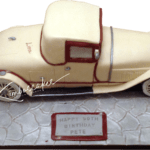 One of our customers came to us with the request to make a Lasalle Cadillac cake in the same style as a photo that was sent to us. We were of course happy to oblige. After considerable researching of the history of this beautiful vintage car we were able to work out a scaled size, to help with the shape and overall size of the cake.
We set to baking the cake which was a made from our Madagascan vanilla sponge recipe. The cakes were baked in sufficient quantity and then carved down and  shaped by hand to replicate the basic shape of the Cadillac, from the scaled sizes we had drawn up of the Lasalle Cadillac.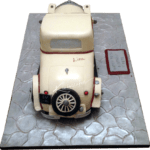 We were also requested to keep the replica as close as possible as it was also to include the gentleman's late wife's name on the car. This was also shown in the image we were given to work from of the actual car.
Everything on the car is totally edible with the exception of the board runner supports. These were made from a none edible item, but, were coated and decorated in icing to keep within the colour and design. The lasalle cadillac cake has a gorgeous  cream finish, together with a rosewood trim around the windows. This really completes the beauty of this vintage car cake which was a pleasure to execute for our client.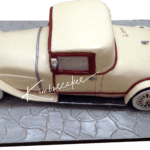 We are requested and produce all types of vehicles for our customers. This particular one was even more memorable due to the style and age, together with the fact it also has a memory of the gentleman's late wife.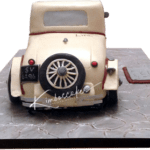 The gentleman, whose birthday it was, was so pleased with the cake, that he even has a photo of this in his office. He actually deals in vintage cars, and to know that he was proud to display this cake in his office is reward enough for the time and labour spent on this beautiful car.
The finished cake was delivered to Mr Mann's restaurant in Wollaton, Nottingham. A great authentic Chinese restaurant.
Price for this cake (As in image & description) £140.00
Please note decorations may vary slightly as each cake is baked individually.
Use the form below to order online, or if you prefer speak to or email us direct.