Baby boots and book
SKU: [ chr-236 ] Cake size used (10?)
Approx portions (40)
Available in a range of colours, flavours and sizes to suit.
Baby boots and book christening cake in pink and white. This baby boot cake is available in a range of colours, sizes and flavours to suit. Laid out on a 12″ iced cake board, the cake is made from a 12″ sponge. (can also be in fruit), and decorated with drops around the base of the book.
A pink ribbon lays down the center of the book whilst around the outside of the pages the cake is double hand piped with a scroll effect.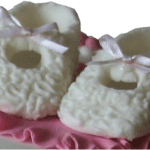 The babies booties on this christening cake have been hand made and decorated to give a woolen boot effect. Little ribbons have been used for laces.
Babies name and message can either be hand piped or shaped letters placed, whichever you prefer. The cake is prepared and decorated less than 48 hours prior to our delivery to you. Baked using only the finest fresh ingredients, this cake comes in a multitude of different flavours and can also be made to suit allergies.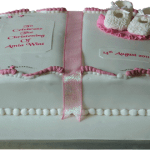 Choose from a range of colours to suit the occasion, or even go for blue one side and pink the other in the case of boy/girl twins. We make a range of christening cakes and also make bespoke designs to. .
For delivery within the Nottingham and Derby town areas there is no delivery charge. Outside of these areas will incur a small charge to cover fuel. We will deliver all of our cakes in person to the venue or house, wherever it is required
Please note decorations may vary slightly as each cake is baked individually.
Price for this cake (As in image) £75.00
Use the form below to order online, or if you prefer speak to or email us direct.