Hamza Bencherif Birthday Cake
SKU: [ cel-308 ] Cake size (As in picture) 12 inch * 10 inch
Most cake flavours available
Other football shirt cakes available
Approx portions (As in picture) 30 – 35
One of our football shirt cakes. This particular birthday cake was made for football celebrity Hamza Bencherif. The cake is laid out on a 14″ board and is made with our beautiful flavoursome vanilla recipe.
We were asked to provide this cake for him and were pleased to be able to. Hamza is seen here in the other pictures of the Nottingham County football player, with his mates from the club.
We sent along a couple of indoor flare candles for them to set off when they presented the cake to him. The former Notts County midfield player now plays for  Plymouth Argyle.
To keep up with Hamza why not follow him on his twitter page Hamza On Twitter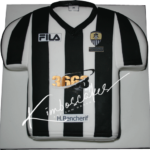 Hamza played for Nottingham Forest from 2006 – 2009. During his time spent there he was given released on loan to Lincoln.
From 2009 – 2011 Hamza played for Macclesfield Town FC and during 2011 he transferred to Notts county. It is only recently this year that he transferred to Plymouth Argyle.
I am sure all his old team-mates at Notts county wish him all the best for his future with them. We will be posting more of our celebrity cakes over time for you to view.
Even our celebrities pay the same for a cake as everyone else 🙂 We deliver all of our cakes in person.
Please note decorations may vary slightly as each cake is baked individually.
Price for this cake (As in image) £75.00
Use the form below to order online, or if you prefer speak to or email us direct.