Stacked Cigarello 6 Tier
SKU: [ wed-223 ] Cake sizes ( 14?, 12?, 10?, 8?, 6?, 4? )
Approx Portions As In Picture ( 280 )
Available in a range of sizes
A beautiful multi stack 6 tier Belgian chocolate stacked cigarello cake. This particular cake was also supplied with 5 x 12″ cutting cakes giving a total of approx (600) individual portions. The flavour of each of the sponge cakes were alternated between our own classic rich lemon flavour and our Vanilla flavour sponge. Using only fresh lemons and real vanilla pods for the flavouring of every cake. Each tier (including the cutting cakes) were covered with rich white Belgian chocolate cigarillos. The tiers were coated in our fresh butter cream which was made with real butter (as always) and flavoured again with real lemon and Vanilla pods.
The height of the cake stood some 32 inches tall with the top bump on it. Every tier of this cake is separated with gorgeous white flowers which sat on a bed of grated white Belgian chocolate. This particular cake was a challange in itself as the venue was in a marquee which had no ventilation and no air-con (against our advice). Still it stood proud when completely assembled.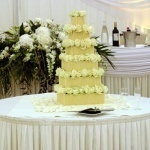 With a stunning array of flowers on the top table which sat right behind it, the cake was set off beautifully and was the centre piece of the whole reception. We also provided 2 separate smaller cakes which were gift wrapped for the bride and groom to give to their respective family members.
The whole stacked cigarello cake including the cutting cakes (11 tiers in all) was prepared, delivered and set up within a 48 hour period and arrived in plenty of time before the guests appeared.
A stunning example of a multi tier stacked cigarillo wedding cake. Needless to say this cake is available in most of our flavours to suit your taste. Using only fresh fruit, Vanilla pods, and all other fresh ingredients. It is also available in Egg Free sponge if required. It is also available in less tiers or more tiers if required including (up to and over 8 tiers if required).
Please note decorations may vary slightly as each cake is baked individually.
Price for this cake (As in image) £699.00
Use the form below to order online, or if you prefer speak to or email us direct.