Champagne Birthday Cake
SKU: [ bir-307 ] Cake size used (Approx) 12 inch * 5 inch
Size of cake (Approx) 11 inch * 4 inch
Cake type used Belgian Chocolate
Approx portions (As in picture) 15 – 20
Most cake flavours available
A custom design champagne birthday cake made to replicate a vintage Champagne bottle. This particular design champagne birthday cake was made for a customer in the Derby area.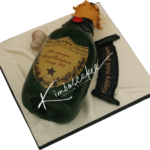 The cake was carved from a freshly baked gorgeous Belgian Chocolate sponge and then coated in a rich Belgian chocolate ganache. Made for a gentleman's 60th birthday. The champagne birthday cake was decorated to resemble an aged bottle of this unique champagne.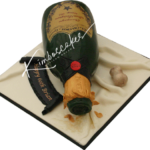 The cake is laid on a 12 inch board which has been covered with a silk cloth effect. Even the cork on this cake is edible. The custom birthday cake has a black iced ribbon on the board with the birthday message hand written in gold colour.
Dom Pérignon is a brand of vintage Champagne produced by the Champagne house Moët & Chandon and serves as that house's prestige champagne.
Kimboscakes take pride in the cakes supplied to their customers and always provide a freshly baked to order service. We are limited on the number of custom wedding / celebration cakes that we provide. If you would like to order any of our cakes, or, if you have one of your own you would like, then please do your best to give as much notice as possible. If you have a different design you would like us to replicate for you then please fill in our contact form.
Please note decorations may vary slightly as each cake is baked individually.
Price for this cake (As in image) £60.00
Use the form below to order online, or if you prefer speak to or email us direct.