Halloween pumpkin cake
SKU: [ bir-254 ] Cake sizes (8″ Base 6″ top)
Approx portions (35-40)
Flavours (Base cake all flavours available)
Flavours (Chocolate Fudge not available for the top tier)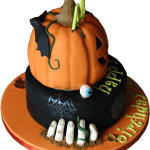 Halloween cake. A cake with a difference. We were asked to produce a novelty cake for a 40th birthday  that was on Halloween.  Of course we were free to indulge ourselves for this novelty cake request without over doing it.
The base cake is covered in a black fondant and then has hand decorated drawings in silver around the sides. These include a tree and a spiders web. To the side of the cake we made it look like a hand was coming up out of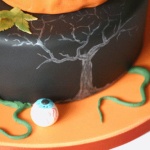 the ground and threaded iced ivy through the fingers. On top of this tier we placed an eyeball which was made to look realistic right down to the veins in the eyes.
The top tier of course replicates a pumpkin face and even has the stalk on the top for extra decoration. On the back of the pumpkin we placed another hand made iced vampire bat.
The base board has iced green ivy leaves around it which creep up the back of the cake. A full choice of flavours is available for the base tier and the top tier has a restriction where we cannot use our luscious soft chocolate fudge cake. (Not to worry you can have that on the base tier).
Whatever you are into on halloween nights, let us know. We will work with you to replicate your cake for your party.
Please note decorations may vary slightly as each cake is baked individually.
Price for this cake (As in image) £85.00
Use the form below to order online, or if you prefer speak to or email us direct.