Sexy cookies
SKU: [ adu-255 ] Individually made
Available in a choice of colours and design
Sexy cookies. Another version of our luscious soft butter cookies. All our cookies, like our cakes, are made fresh to order. These cookies just melt in the mouth. A little on the raunchy side these cookies can be used either as favours or for any type of fun party.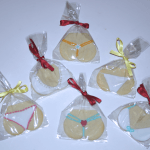 We make a whole range of cookies in various styles and colours. Whatever you need sexy cookies for, whether it is for an adult party, or just for fun, let us know. We will always work with you to design the style of sexy cookies that you require.
We not only do sexy lingerie cookies, we also do sexy male cookies to. Add a twist and make the cookies have a zingy flavour like lemon and lime. Use our contact form from the above menu or call us direct to discuss your novelty cake / cookie party requirement. We are sure we can come up with the ideal design for you.
Made and decorated individually by hand using our own soft cookie recipe.
Please note decorations may vary slightly as each cake is baked individually.
Price for these favours (As in image)  £1.75 each
Use the form below to order online, or if you prefer speak to or email us direct.