Barbie Castle & Doll Cake
SKU: [ bir-253 ] Cake Sizes ( 8″, 6″, 4″ )
Approx Portions Cake ( 40 )
Barbie Cake Sie ( 6″ )
Approx Portions Barbie ( 10-15 )
All cake flavours available
Wide range of colours available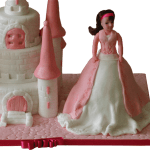 Barbie castle cake. This beautiful Princess Castle cake has been made with 3 different types of sponges. Real Belgian Chocolate which is also coated an a gorgeous soft Belgian chocolate ganache, Lemon sponge made with real lemons and lemon juice in both the sponge and the butter cream and finally a lovely soft vanilla sponge using only the finest vanilla pods for flavouring.
Everything on the barbie castle cake is totally edible with the exception of the dolls head. This can also be made by hand from fondant if required. Once the tiers were stacked together we set about decorating the outside of the castle. The turrets are also made from fondant icing.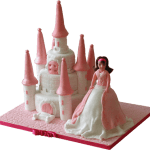 As with all of our cakes the finer detail is also completed separately by hand. The princess's flowing dress is fondant that has been draped over the cake underneath. This to has also been given the finer detailed touch to give the dress a realistic look. This particular novelty birthday cake was delivered and set up at our customers venue in Derby. Does your child or partner have a favourite character? Would you like to see this made into cake for them? Let us know.
The cake is available for delivery all over the UK. We deliver all of our cakes in person and set them up for you. There is a nominal delivery charge made on deliveries to cover the basic fuel cost.
Please note decorations may vary slightly as each cake is baked individually.
Price for this cake (As in image) £125.00
Use the form below to order online, or if you prefer speak to or email us direct.