21st Birthday Cake Large
SKU: [ bir-207 ] Approx Size of cakes
Number 1 cake (12″ x 3″ x 3″)
Number 2 cake (12″ x 3″ x 3″)
Approx portions (40 – 50)
This 21st birthday cake has been made with our gorgeous soft rich chocolate sponge. Baked to order individually using real Belgian chocolate. Like all our other cakes, this cake is made using only fresh ingredients. We have many different styles of birthday cakes available. Unfortunately we cannot display them all. If you do not see a cake design that appeals to you, then let us know. Tell us what type of cake you would like. Whether it is traditional or outrageous we would love to hear from you.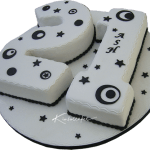 Laid out on a 14″ round cake board it is iced in white fondant and decorated with individual stars, circles and other shapes. A full range of colours and flavours are available for this cake. Please see our cake flavours guide above. There is an extensive range of cake flavours and types available for this great 21st birthday cake. This lists just a few of the available flavours. As we bake all our own cakes In House to order, we are not limited on types and flavours that we can provide.
Made and carved by hand. All of our cakes are baked individually to order. We do not use shaped tins to achieve the shape required. Our cakes are all custom carved by hand. Call us now to discuss and order your 21st birthday cake.
Delivery within the Derby and Nottingham area together with anywhere  else in the U.K. All our cakes are delivered in person by us. We always do our best to work with you and stay within a realistic budget.
Please note decorations may vary slightly from cake to cake as each cake is baked individually.
Price of this cake (As in image) £99.00
Use the form below to order online, or if you prefer speak to or email us direct.