Fruit cigarello wedding cake
SKU: [ wed-262 ] Cake sizes (As in picture) 12″, 10″, 8″ and 6″
All other sizes and shapes available
Approx portions (Cake in picture) 170 – 190
Full range of cake flavours available
Your choice of in season fruit.
Fruit cigarello wedding cake. A gorgeous 4 tier wedding cake set out on a 14″ cake board. The cake board is also coated in white Belgian chocolate.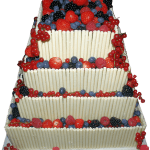 Each of the sponge tiers on this fruit cigarello cake stand some 3.5″ high and are a mixture of flavours. Every tier is surrounded by white Belgian chocolate cigarillos and is coated on top with grated white Belgian chocolate.
Different types of FRESH summer fruit has been carefully selected and placed on the top of all of the tiers. The top tier has been carefully built up with a mixture of different types of coloured fruit.
The fruit used in this Belgian chocolate  cigarillo cake were, Strawberries, Blackberries, Red berries, Blueberries and Raspberries. Also available in Belgian Milk and Dark chocolate.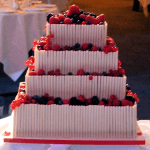 This particular cake was delivered and set up at our Bride and Grooms venue in Nottingham. The cake was baked fresh less than 36 hours prior to the wedding and decorated with the fresh fruit on delivery. Set on a cake stand which we draped with a beautiful white silk and dressed with soft rose petals.
This cake is available for delivery anywhere in the Midlands, East or West, Nottingham, Derby, London or anywhere else in UK or Wales. This particular cake was delivered and set up for our happy Asian couple at Orchard Hotel, East midlands Conference Centre, Nottingham.
Please note decorations may vary slightly as each cake is baked individually.
Price for this cake (As in image) £495.00
Fresh fruit is included in the price.
Use the form below to order online, or if you prefer speak to or email us direct.