Butterfly rose drape wedding cake
SKU: [ wed-261 ] Cake sizes (As in picture 12″, 10″, 8″ and 6″)
Approx. portions (As in picture) 130 – 140
Full range of colours and sizes available
All cake flavours and types available. 
Butterfly rose drape. A gorgeous 4 tier silk styled butterfly rose drape wedding cake. Sitting on a 14″ iced cake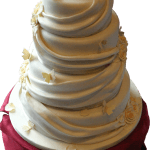 board all 4 tiers and the board have a luscious ivory silk ribbon around the base.
the cake topper on top at the back of the brides dress is the starting point for the silk drape effect to flow down and across of each tier in a zig-zag fashion giving the effect of a long train leading from the Brides dress. On the join of each tier there is some hand made iced roses.   The roses have a base colour of white, and each of them is gently coloured with hints of ivory and gold.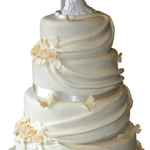 Dropping down the cake we have carefully placed falling petals as if the roses have been caught in a slight summer breeze. Matching ivory butterflies have also been placed on and around the cake.  The cake sits on a cake stand which has been covered in burgandy silk. The cake colours and silk cloth match the room perfectly with the Bride and Grooms choice of colours for the day.
The cake has been coated in a pearl shimmer to enhance the look under the lights of the venue. This makes the cake stand out and sparkle.
The cake is available in a wide range of colours and tier sizes to match your theme and the number of guests.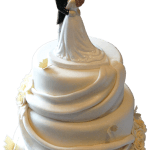 Every tier is available in a choice of our full range of cake flavours, including Egg Free, Gluten Free and Vegetarian. Our unique Egg and Gluten free range of cakes are also available in a wide range of fresh flavours. Baked and decorated less than 48 hours prior to delivery. This cake was delivered to the Village Hotel in Nottingham and wowed all the guests with its clean fresh vibrant look.
See a range of our popular food intolerance cake flavours here Dietry cakes Free delivery within the Nottingham and Derby immediate areas.
Please note decorations may vary slightly as each cake is baked individually.
Price for this cake (As in image) £425.00
Bride and Groom not included.
Use the form below to order online, or if you prefer speak to or email us direct.