Cornelli Design 6 Tier Wedding Cake
SKU: [ wed-263 ] Cake sizes (As in picture) 20″, 14″, 12″, 10″, 8″ and 6″
Full range available incl. Egg Free, Halal and Vegetarian.
Approx portions (As in picture) 400+
Cornelli design wedding cake. An impressive 6 tier wedding cake. The cake flavours / types for this lovely cake were, Carrot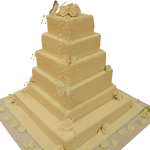 Cake, Belgian Chocolate Orange Swirl, Passion fruit, Belgian Chocolate, Vanilla and Lemon.
All of the cakes were baked less than 48 hours prior to delivery using only real fresh ingredients in the sponges and real Belgian chocolate. At Kimboscakes, we do not use flavoured essence in our sponges, we incorporate real fresh fruit within the baking. The butter cream is also made with real fresh ingredients.
The whole cake is laid on an iced 24″ cake board. Around the cake board and on the cake table we have used fresh rose petals to match the colour and theme of this wedding. The base tier is a massive 20″ fresh lemon sponge using real lemon zest and juice in the prep and baking and also in the lemon butter cream, and is a plain design. The next tier is the 14″ which is is our own vanilla recipe and utilising real fresh vanilla pods in the baking of the sponge and the filling. This tier incorporated a cornelli design all around it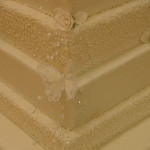 Next comes the 12″ layer which was a Belgian chocolate sponge, using only the best quality Belgian chocolate. This tier was also coated in a rich Belgian chocolate ganache and had a luscious Belgian chocolate filling.
The 10″ tier was our very own passion fruit recipe. Incorporating the full flavour of the passion fruit, it also had a passion fruit filling. This tier also had the cornelli design incorporated on it.
Following on  we have the 8″ chocolate orange swirl cake. Once again using only the finest Belgian chocolate in our sponge (not cocao powder).
The top tier of this magnificent wedding cake was made from our very own blend of carrot cake. A lighter than normal mix which just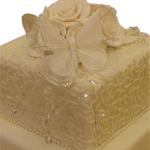 melts in the mouth and does not feel heavy to eat. Again the top tier was decorated in the cornelli design which finished of the alternate layer effect.
The whole 6 tier wedding cake was transported in individual layers to its destination in Nottingham and was set up on site ensuring perfect structure and support. Once it was assembled, we then decorated down one corner of the cake with leaves, flowers and pearl beading. Another amazing cake for another of our Asian bride and Grooms.
Also incorporated into this design and placed around the cake were, butterflies and hand made iced flowers, along with real roses. The cake is available in sponge, fruit, mixed, halal, vegetarian, vegan and much more. Also available in any size and can be reduced or increased in size to suit. Choose from a full range of cake flavours and colours.
To order the cake in this size please fill in the form below and enter the flavours you would like. For all other sizes, please contact us direct.
Please note decorations may vary slightly as each cake is baked individually.
Price for this cake (As in image) £750.00
Use the form below to order online, or if you prefer speak to or email us direct.