Golf Bag Birthday Cake
SKU: [ bir-203 ] Cake size (As in image) 10 x 5 x 4 inch
Approx Portions (35)
Cake flavours (Most flavours available)
Every golfers dream! Have your cake and eat it with this unique golf bag cake. The golf bag cake is available in a full range of colours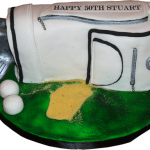 and sizes. It can be personalised with your favorite brand together with any short message.
Made with our fresh baked vanilla recipe, this cake is also available in Passion fruit and all our other favorite cake flavours (Including Belgian Chocolate)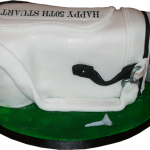 Attention was given as always to the finer details of all the straps and zips as well as all the obvious visible areas of the golf bag. Even the ends of the golf clubs are edible. In this cake they are formed from fondant icing.
The grass and sand effect on the cake board are also edible and are made from icing and other ingredients. If you would like to have your personal golf bag made into a cake, then let us know. Apart from golfing we also make a wide range of other sports bags and sporstwear.
Your golf bag can be made either standing upright or laying down. Choose from a wide range of cake flavours that are available for this style cake. All colours and detailing can also be altered to suit the individual needs of the person receiving the cake. We can also make the cake look as though it is supported on its stand, as if it is waiting to be wheeled away.
Price of this golf bag (As in image) £90.00
Use the form below to order online, or if you prefer speak to or email us direct.
Are you launching a business or holding a corporate function in Derbyshire? Check this venue out Derby Conference Centre