Christmas Pirates fruit cake
SKU: [ child-264 ] Size of cake used (10 inch)
Type of cake used (Fruit) Other types and flavours are also available
Approx portions for this size (25)
Christmas pirates cake. Made from a 10 inch fruit cake, the children's novelty Christmas pirates ship cake is is carved and shaped by hand. We choose not to use  pre-made moulds in our 3D cakes as we believe you get better detail from a hand carved bespoke cake. Once the basic shape is made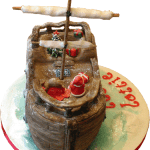 we then add the little other bits of detail in and carve the shape of the ship out. It is then covered in marzipan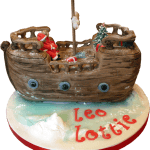 before being coated in a soft sugar paste. All the railings are made by hand to fit onto each cake that we do.
The cannons on the ship are pre-made from edible icing and inserted into both sides of the ship.
Once the cake is iced we then set about shading the cake and give it a real weathered look with both dark and light effect wood style shading.
The mast is also made from edible items and the flag and sails are made from flower paste. The children's figures on the boat are also hand made and decorated. This way we can get extra features in where required.
All other items on the ship are also made from either edible icing or cake that has been shaped and iced. The board is decorated with ice water effect around the base of the boat and then the whole cake is given a sprinkle of edible snow to finish off the winter look.
Please note decorations may vary slightly as each cake is baked individually.
Price for this cake (As in image) £75.00
Use the form below to order online, or if you prefer speak to or email us direct.