Nottingham Forest Football Shirt 2010 – 2011 Home Strip
SKU: [ BIR-200 ] Cake size used (As in image) 12 inch cakes
Approx Portions (40+)
Cake flavours (Most flavours available)
This Nottingham Forest football shirt cake is made with our beautiful fresh baked moist vanilla sponge. The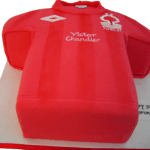 filling is made from vanilla buttercream and conserve. Another cake for another football team. This time we have made a Nottingham Forest football shirt cake. The cake has been made in Nottingham Forests home strip for 2010 – 2011. Every detail of this cake has been completed by hand. To make it more realistic we have included the tag at the back of the shirt displaying the Umbro logo and the size tag. Attention has been given to the finer details such as the neckline, Forest logo and the Victor Chandler sponsor.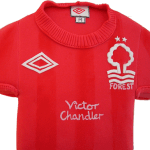 Like a majority of our cakes, this cake is also available in most flavours and types including those with allergens. What an ideal cake for any Forest supporter. This cake is also available in a wide range of sizes depending on your needs. We also make cakes for all other sporting activities such as, Cricket, Rugby, Hoocky and Skating along with a host of other sports. So whatever you or the person you are buying the cake for, give us a call. We will work with you to come up with the ideal cake.
As with our other cakes, we deliver to Nottingham, Derby and all other areas in the Midlands and the UK.  Nominal delivery charges are applicable and depend on the distance. Treat yourself and celebrate with all your friends. Let Kimboscakes provide you with your ideal cake.
Price of this cake (As in image) £65.00
Use the form below to order online, or if you prefer speak to or email us direct.