Yule log and candles christmas cake
SKU: [ sea-289 ] Cake size used for Yule Log (As in picture) 8 inch
Approx Cake sizes used for candles (As in picture) 1 inch, 3 inch and 5 inch
Approx Portions 20 – 30
Cake type (Candles) Fruit
Cake type (Yule log) Sponge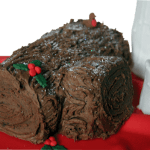 Yule log. Christmas festive season yule log and 3 candles. The cakes are set out on a 14 inch by 12 inch board which has been covered in Christmas red icing.
The board icing has been made to look like ruffled satin and is edged with a festive red coloured ribbon. Like all of our cakes, the yule log has been baked fresh and then cut and shaped into a log.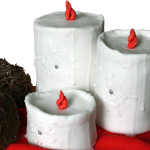 It has been covered in a rich Belgian chocolate butter cream, which is also the filling for the yule log. Once coated it has been given a log effect exterior.
There is also some hand iced holy and a robin included on the yule log.
The Christmas style candles are made from our own recipe rich fruit cake, but can also be made from our ever popular Jamaican style fruit cake.
Please note the Jamaican style fruit cake does have an 80% proof alcohol level. Once the fruit cakes are made, they are then iced in white fondant, and decorated to give the effect of candle was drips down the side. The candles also incorporate snowflakes and one or two edible dragee's.
Please note decorations may vary slightly as each cake is baked individually.
Price for this cake (As in image) £60.00
Use the form below to order online, or if you prefer speak to or email us direct.