West Highland Terrier Birthday Cake3D
SKU: [ bir-287 ] Cake size used (As in picture) 10 inch
Approx Portions (As in picture) 30 +
Chocolate fudge is not available for this cake
West highland terrier 3D cake. Forget the taxidermist, just give us a call and we will transform your pet into a caricature cake for you. We have lovingly called him Scruffy.
This lovely west highland terrier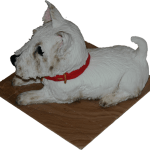 birthday novelty cake is totally edible. We have dressed the cake board to resemble floor boards. Our customer wanted a cake of their pet to look as real as possible. You decide if we have managed that or not.
The West Highland Terrier has been made totally from cake and only has one small support inside. Once we had achieved the desired shape, it was covered in a soft fondant. We then set about the detail of the body and tail.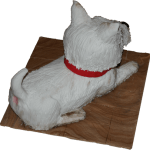 Attention was paid to the detail of the dog, right down to his muddy paws. Eyes were made and coloured, and the moth was shaped and marked to give him a happy look.
We then mixed the colour for his ears. The collar and dog tag are also made from edible icing. Available on a wide range of cake flavours.
If you would like us to bring your pet to life as a cake, then please send us your photos with your request. You can add a single image to our contact form by clicking here, or if you wish you may contact me directly using the phone number at the top.
Please note decorations may vary slightly as each cake is baked individually.
Price for this cake (As in image) £95.00
Use the form below to order online, or if you prefer speak to or email us direct.