Forever 21 shopping bag
SKU: [ bir-244 ] Cake size used (12 inch)
Approx finished cake size (11 inch x 6 inch x 3 inch)
Approx portions ( 35 )
Available in a range of colours and sizes
Forever 21 Novelty Cake. A fashion style novelty cake in the form of a forever 21 style carrier bag. Set out on a 12 inch round cake board covered in soft fondant and matching pink ribbon. This Forever 21 carrier bag style cake is available in our full range of flavours.
This cake was made from a 12 inch cake which is baked to order using all fresh ingredients. Once baked it is cut down, and stacked to give a good height in order to get the desired effect. Covered in a soft pink fondant, it is then etched at the base to resemble to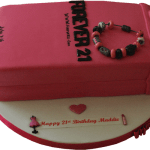 folds in the bag.  The carrying handles are then added together with the collar of the bag. The popular Forever 21 beads are hand made and strung together.
To finish the cake off, the Forever 21 writing together with the quotation from John 3:16 are then hand written onto the bag. Another ideal novelty birthday celebration cake for the young fashion minded amongst us. If you have an idea for a novelty or bespoke 3D birthday cake, then let us know. We will work with you to design your cake.
For more information about this cake or to enquire about different size prices please use our contact form from the menu opposite. There is no charge for delivery of this cake within the Nottingham and Derby immediate areas. Outside of these areas will incur a small delivery charge.
Please note decorations may vary slightly as each cake is baked individually.
Price for this cake (As in image) £65.00
Use the form below to order online, or if you prefer speak to or email us direct.