Handy Manny With Cup Cakes
SKU: [ child-209 ] Available in a range of flavours and colours to suit
A children's favorite cup cake. All our cup cakes are made with fresh ingredients. The Handy Manny character is also edible and is made and decorated by hand from sugar paste. It can also be kept as a keepsake. The cup cakes provided for this customer were Vanilla with strawberry filling in them. Our cupcakes are available in a full range of flavours. Each cupcake is the larger cupcake size, not the smaller type on the market today.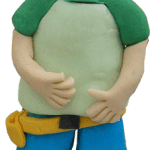 Attention is given to detail for all of Handy Manny's tools which are also hand made and placed on top of each cup cake. The tools have also been given safe edible eyes made from sugar paste.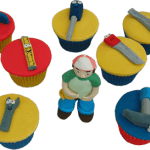 The Handy Manny character is made as a replica of the model, right down to his work belt and back to front cap.
The colour of the iced top on each of the cupcakes can be made to whatever colour you like and we can also provide a range of cup case colours to match.
You can display these cup cakes either on your own tiered cup cake stand, or, for a small charge you can hire our clear perspex one. Whatever cartoon character your children are into, we can provide a replica cake for them. Whether it is cup cakes, standard cake or a unique 3D cake. All of our cakes are baked and decorated fresh to order, less than 48 hours prior to delivery. Fresh baked cakes with real fresh ingredients for natural flavouring. This means no hyperactive E numbers.
Cup Cake Price Each With Tools (As in image) £2.75
FREE 2 Iced Figurines With Every 30 Cup Cakes
Use the form below to order online, or if you prefer speak to or email us direct.