Calla lily tower and drapes wedding cake
SKU: [ wed-260 ] Cake sizes (base 4 x 6″) 12″, 10″, 8″ and 6″
Approx Portions (Sponge cakes 200) More if fruit tier included
Base colour (As in picture) Ivory
Available in a full range of colours to suit.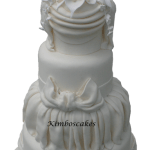 Calla lily tower and drapes. An  amazing tower wedding cake comprising of 8 tiers. The whole cake sits on a 16″  iced and decorated cake board, which has a silver shimmer ribbon around it. 4 x 6″ tiers are used as the base of the cake with the other tiers stacked on top. Average height is approx. 18″ or more for this calla lily tower. Each of the base tiers of this beautiful cake is decorated with hand draped icing and separated in-between with hand iced calla lilies and buds.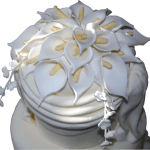 The next tier (12″) of this amazing wedding cake is left plain and has hand piped beading around the base. The 10″ tier is decorated with downward hanging drape effect icing.
The tier above (8″) has been decorated with an iced ribbon and bow around the base. On the top tier, we have decorated this around the side with and iced ribbon effect and hand iced hanging drapes.
The top of this 8 tier calla lily tier wedding cake is decorated with a bump of calla lilies. All of the flowers on this cake are hand made and coloured. The flowers and the colour can be changed to suit individual requirements.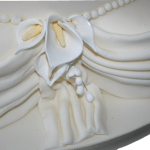 The wedding cake is also available as either all cake or a mix of false tiers and real cake. There is free delivery on this cake within the Nottingham and Derby area. A small charge is made for delivery anywhere else in the UK.
Not sure of what flavours or types of cake to have? then why not check out our popular flavours from the menu on the left. Mix and match between sponge, and fruit. As with all of our wedding cakes this cake is also available as Egg Free and Vegetarian.
Like all of our other cakes, this cake is freshly baked, shaped, styled and decorated less than 48 hours prior to delivery. This particular cake takes up approx 36 continuous hours or less to prepare. The cake is delivered and set up at your venue in person.
Please note decorations may vary slightly as each cake is baked individually.
Price for this cake (As in image) £695.00
Use the form below to order online, or if you prefer speak to or email us direct.