Purple trailing roses wedding cake
SKU: [ wed-259 ] Cake sizes (As in picture) 12″, 10″, 8″ and 6″
Approx Portions (As In picture) 135-140
Full range of colours and sizes available
Purple trailing roses. See a list of our most popular flavours from the menu above. Over 30 to choose from
This particular wedding cake was delivered to our Bride and Grooms reception at Morley Hayes, Derbyshire. The cake is set on a 14″ iced and decorated cake board which is decorated with a matching ribbon. The top and third tier are also decorated with diamante chain around the base of the ribbons to match the roses.
The base colour for this cake was Ivory, but it is available in a wide range of colours to suit. Each tier has a silver ribbon around the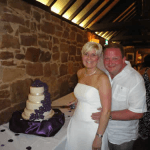 base of the cake. The trailing purple roses start from the bump on the top of the cake and work their way down and around each tier.
A diamnate pin is inserted into the centre of each of the roses to give the sparkling effect. Pricing will vary for this cake, depending on whether you choose to have Fresh, Hand iced or false flowers. Please contact us for individual pricing if you do not want false flowers.
You may change the colours of the flowers or cake when ordering below. Take a look at our 3 tier burgundy trailing rose here
Please note decorations may vary slightly as each cake is baked individually.
Price for this cake (As in image) £395.00
False flowers included.
Use the form below to order online, or if you prefer speak to or email us direct.