3D Mater Birthday Cake
SKU: [ child-252 ]
Cake Size Use ( 10? )
Approx Portions ( 25-30 )
Flavours Available ( Most )
Available in a range of sizes to suit.
Fresh baked, hand carved and decorated to order.
3D Mater cake from the cars movie. Carved from a 10 inch chocolate cake to replicate  the Mater truck from the movie "cars" Decorated with a base colour then airbrushed to give mater his well known worn rusty look.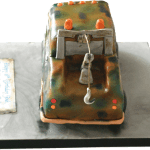 Mater would not be complete without his big teeth/eyes and his rusty old winch which we added to complete him.
With attention given to detail this novelty cake takes time to create but we think it is worth it to see the look on the little faces when they see him.
3D Mater has been laid onto a cake board that has been given the look of a garage floor (oil and tyre marks included ) Each part of mater is hand made including the wheels and winch. We do not use moulds to create any of our cakes they are all done by hand. real fruit is used for the flavouring of the sponge cake and real Belgian chocolate is used for our chocolate cakes. (No E numbers here).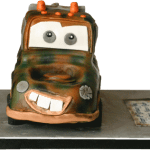 Your little one would absolutely love this cake and quite possibly would not want to cut into him and share him with friends. Hand decorated and coloured, we enjoyed putting this cake together. Even maters teeth are edible. In fact the only part of mater that is not edible is the tow rope on the back.
3D Mater has been lifted up on the board in order to give him a more authentic look. We thin he looks better this way than just having his tyres pushed into the side of the cake.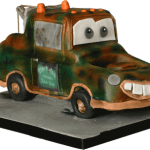 His little yellow amber breakdown lights are made from coloured icing and his towing hook and winch are made from flower paste. As with all of our cakes we deliver them all in person direct to your door or venue. Our cakes are delivered all over the Midlands and the rest of the UK.
Please note decorations may vary slightly as each cake is baked individually.
Price for this cake (As in image) £85.00
Use the form below to order online, or if you prefer speak to or email us direct.