Teddy Bear with cup cakes
SKU: [ child-236 ] Top tier cake size 8″
Available in all flavours, colours and sizes to suit
Large size cup cakes
This child's teddy bear birthday cake can be made in any colour and is available in our full range of flavours. The teddy bear birthday cake shown here is decorated in pure white fondant and dressed around the base with a soft pink ribbon. The top of the cake is decorated with small pink flowers and a hand molded teddy bears. We do all of our molded caricatures etc by hand as we find it is more of a personal touch.
Sitting on top of a 4 tier cup cake stand, underneath the top tier we have our own LARGE cupcakes which are all baked and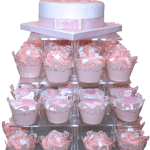 decorated individually. These particular cup cakes were a mix of flat fondant and buttercream toppings. Each cupcake has its own individual decoration on them. A mix of vanilla and strawberry cup cakes made with real vanilla pods and fresh strawberries. A real delight with the children. All of our cakes are baked the traditional way, using only fresh ingredients for flavour. Such as, Mango, Passion fruit, Strawberry, Lemon Limes etc.
The cake stand is hired separately at a minimal cost with a holding deposit for the safe return
Please note decorations and separator may vary slightly as each cake is baked individually.
Price for top tier (As in image) £45.00
Price per large cup cake (As in image) £2.50
Use the form below to order online, or if you prefer speak to or email us direct.