Arsenal Shirt
SKU: [ bir-226 ] Cake size used (12″)
Approx Size (11″ x 9″)
Approx Portions (40)
Available in a range of sizes and flavours
One of the favorite cakes requested for sport is a football shirt cake. This particular one is for the gunners. We will make any football shirt cake that you choose, or any other sport related cake. Please let us know which of the Arsenal strips you would prefer to have. Whether it is one of the Home or Away strips, we will replicate this for you.
The cake is available in a full range of sizes and flavours to suit. Why not have your Arsenal shirt cake personalised as shown here. We have replaced the players name with the actual name of the persons birthday.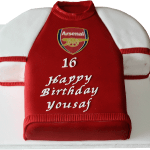 This particular cake was delivered to one of our repeat customers. They emailed their request in and we were able to provide the Arsenal shirt cake within the given timescale. For most cakes celebration we would ask for between 7-10 days notice minimum. The more detail and preparation required, then the more advance notice you can give, the better. Though, we have fulfilled urgent requests within 48 hours, this all depends on our current orders.
Search our website for the replica cake of the Emirates Stadium which was also delivered to London
Free delivery on all of our cakes within the Derby/Nottingham area. Other areas will incur a nominal delivery charge. We deliver all of our cakes in person. Yes we will also deliver to the Emirates Stadium in London.
Please note decorations may vary slightly as each cake is baked individually.
Price for this cake (As in image) £65.00
Use the form below to order online, or if you prefer speak to or email us direct.