Doctors congratulations
SKU: [ bir-227 ] Cake size used (12″)
Approx Portions (50+)
Available in a range of sizes and flavours
Doctors cake. Made as a specific request from a customer and following all the details they requested, this novelty doctors cake is styled in the shape of a doctors coat and comes complete with stethoscope and petri dish.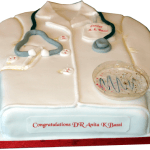 Everything on this cake is completely edible including the petri dish. Made with our home baked soft fresh vanilla sponge.
The cake is coated in a soft white fondant and then etched to the shape of the coat. The stethoscope is made by hand from soft icing as is the syringe. The actual petri dish is formed with sugar and food colouring was used to to give the specimens inside. If you have a theme that you would like us to transform into a cake, then please contact us and let us know.
Delivery was free to Derby. This cake as all others comes in a full range of sizes and colours.
Please note decorations may vary slightly as each cake is baked individually.
Price for this cake (As in image) £65.00
Use the form below to order online, or if you prefer speak to or email us direct.