Mini Cakes Lily Top Tier
SKU: [ wed-225 ] Cake sizes On Top (Approx) 6 inch
Approx Portions Top Tier (15 +)
Mini cakes approx 2 inch square
Available in a wide range of sizes, colours and flavours.
Mini cakes lily top tier. Simple, clean and elegant. Available in most colours to match your theme and the flower on the top tier can be changed to suit your bouquet. This particular top tier wedding cake as at the top of a 7 tier cake stand with over 100 mini cakes.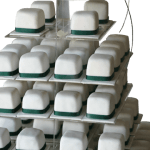 The 100 mini wedding cakes were all made individually by hand and made of of 5 different flavours. (See our popular cake flavour guide on the menu at the top of the page). Each individual cake is covered in a beautiful soft white fondant and a subtle green ribbon is attached to the base of each. All the mini cakes sit on their own individually iced cake card to finish the look.
The top tier of this elegant Lily wedding cake is decorated the same as the mini cakes, with the exception of the lily on the top. The hand made iced lily has been lightly dusted with a hint of green colour to it and cam also be kept as a keepsake from your wedding day.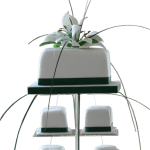 Bear grass was used on this design to finish of the look of the lily on this mini cakes lily wedding cake.. The top tier is also available in a full range of our cake flavours and is available in a range of shapes and sizes to suit. To give you an idea of how many people the top tier will feed on its own, please see our cake size and portion guide which is found on the above menu. Why not add a little difference to your guests tables by including our fresh baked soft butter cookies or some of our Belgian chocolate favours.  We provide a wide range of mini cakes. If you do not see what you are looking for, then please contact us.
Please note decorations may vary slightly as each cake is baked individually.
Price for this cake top tier (As in image) £75.00
Price for the mini cakes (As in image) £4.00 each
Use the form below to order online, or if you prefer speak to or email us direct.