KFC Bucket Birthday Cake 3D
SKU: [ bir-335 ] Cake size (approx) height 6″ width 6″
Other sizes are available.
Approx portions 30
Most cake flavours / types available
KFC bucket birthday cake in 3D. Kentucky fried chicken and chips in a bucket with a twist. This cake was made made with a our unique Belgian chocolate sponge. Incorporating layers of smooth Belgian milk chocolate Ganache. All items on the cake and cake board are all handmade and edible products. Including the chicken drumsticks, bucket, chips, napkin, baked beans and its container.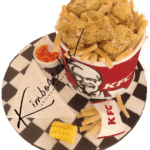 The board has been decorated in a black and white checkered effect with individual squares of icing. Here at Kimboscakes we pride ourselves in paying special attention to detail, right from baking the cake to decorating, to give our customers a very close replication of the real product.
This particular custom design KFC bucket birthday cake was made as per our customers instructions. Needles to say, their friend was over the moon when they saw the finished product. Apart from the kentucky fried chicken family bucket, we also provide other KFC, McDonalds, subway and other fast food chain style cake products to suit your requirements.
Why not surprise one of your friends or family members who love the fast food choices and order a cake for them. The size and portions available are available in a vast range to suit individual needs. You can also take advantage of our low cost delivery service, and have your cake delivered at a set time, to your chosen location or venue. Browse through our other style of cakes. If you do not see one that you like, then please get in touch and let us know your type of cake that you require.
Please note decorations may vary slightly as each cake is baked individually.
Price for this cake (As in image) £75.00
Use the form below to order online, or if you prefer speak to or email us direct.