Winter Snowflake Wedding Cake
SKU: [ wed-231 ] Cake sizes (10?, 8?, 6? 4″)
Approx portions (120)
Available in a range of styles, colours and flavours to suit
Winter snowflake wedding cake. Just one of our winter themed design wedding cakes.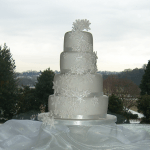 Designed for a bride's winter wedding at Makeney Hall in Derbyshire. The beautiful 4 tier wedding cake is made up of two moist rich fruit cakes which are enrobbed with a lovely soft golden Marzipan and then coated in white fondant, and 2 vanilla sponges with a filling of gorgeous white Belgian curvature chocolate butter cream and enrobed with a white Belgian curvature chocolate ganache.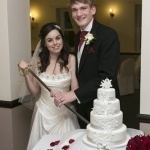 The whole 4 tiers of the wedding snowflake cake were then covered in hand made iced snowflakes which were coated in sparkle glitter to give the snowflakes a glimmer effect as light went on them. This cake is available in most shapes and sizes and is also available in most flavours. To complete the iced winter look the cake stand and table was covered with a beautiful white organza sheet. Add extra detail to the cake to suit your theme for the day. Need more cake? Save money and order cutting cakes, or, add an extra tier.
Delivery is free to venues within the Derby and Nottingham areas. Other areas will incur a small delivery charge. Like all of our cakes, we always delivery all of them in person direct ourselves to ensure the cake arrives in excellent condition.
Cake stand and organza sheet are available for hire, only to brides ordering wedding cakes from us.
Please note decorations may vary slightly as each cake is baked individually.
Price for this cake (As in image) £380.00
Use the form below to order online, or if you prefer speak to or email us direct.