Record player cake Bay City Rollers
SKU: [ bir-232 ] Cake size used (12?)
Approx portions (55-60)
Available in a range of colours, flavours and sizes to suit.
Record Player. A custom designed Grundig record player cake for one of our customers who were celebrating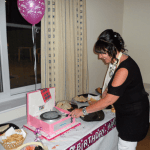 their birthday in London. This cake is made from our rich 12″ Belgian chocolate sponge. It is encased in a pink fondant replicating an old style Grundig record player.
Now be honest there must be many more people out there who's mind gets taken back when someone says Bay City Rollers, or should we say Tartan Army. The deck of the birthday / novelty record player cake has a replica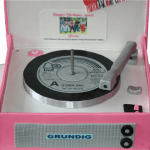 hand made iced record which is taken from an original record. Just out of site there is also the speed control for the record player showing the 45, 78 and 33 record speeds. The grundig logo has been placed on the cloth effect front which was usually found on these old record decks.
On the lid of the record player we have included a print out picture (also edible) of the whole Bay City Roller group, and we have made a tartan scarf using the rollers colours and draped this over the lid.
Our customer was so excited when she saw the cake arriving that unfortunately she tripped up and damaged her collarbone.  As you can see in the picture provided, this did not stop her from enjoying and tucking into the cake on the day.
Apparently the record player cake was a big hit but unfortunately it would not play the record 🙂
This cake is available in a range of colours and we can replicate most records for you.
Please note decorations may vary slightly as each cake is baked individually.
Price for this cake (As in image) £95.00
Use the form below to order online, or if you prefer speak to or email us direct.