Vuitton Lace Shoe & Box
SKU: [ bir-273 ] Cake size used (10 inch)
Approx Portions ( 40 + )
All cake flavours and types available
Vegan, Egg free, Gluten Free and all others
Vuitton lace shoe and box. Another fashion style shoe to join our ever increasing list of novelty brand name shoes.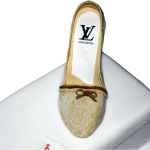 This Louis Vuitton shoe has had veil work added to it which sets it off beautifully.
The Vuitton lace shoe box has been made from a 10 inch cake and is one of our rich Belgian chocolate sponges. Using only the finest Belgian chocolate and coated in a rich creamy ganache. The lid is made from icing and the cake sits on a 12 inch iced board. We have decorated the edge of the board with matching ribbon to suit the colour of the L.V. Shoe.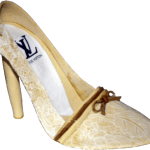 The shoe is totally edible and is made from flower paste. Styled and a ladies size 5 shoe, it may also be kept as a keepsake. The sugar veil goes around all of the outside of the shoe. This gives it a unique lace shoe effect.
Across  the top of the shoe at the front it has been decorated with a small brown bow which leads onto the band of the shoe. Like all of our cakes, this one is baked fresh to order and is available in a wide range of colours, flavours and sizes to suit the occasion.
We have made many famous fashion cakes for our customers over the years. Working direct from images to replicate the designs that are sent to us. We have no affiliation with any of the brand name replica cakes that we provide. All brand logos are incorporated using images provided to us either from our customers, or, from free images on the internet.
We are not licensed to reproduce these logos so they will differ slightly from the original one provided.
Please note decorations may vary slightly as each cake is baked individually.
Price for this cake (As in image) £75.00
Use the form below to order online, or if you prefer speak to or email us direct.