3D Apple Cake
SKU: [ corp-274 ] Cake sizes ( 2 x 6 inch)
Approx portions (25)
Most cake flavours available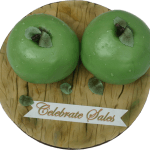 3D Apple cake. No not real apples.  This corporate cake was made for one of our local hotel chains. This bespoke design corporate cake has a twist. The 3D apple cakes have been made to resemble apples, but inside they are coloured orange and have real orange bits in to give the orange flavour. The cakes have been coated in an apple green fondant and the given  a wet look to resemble an apple that has just been washed.
Particular attention was given to the detail of an apple to ensure it looked as realistic as possible right down to the stalk and leaves. The 3D apple cakes cakes have been set on a 10 inch cake board which is decorated with a wooden board effect.
We have provided many corporate cakes for people such as Microsoft Research and other large bodies. We provide fresh baked designs unique to your business. Many of our cakes will also include on request your logo on them. From car sales to computers and hotel chains. We will provide you with a customised bespoke cake for your occasion. Corporate cakes are treated exactly the same as wedding and other cakes. We pay attention to detail and ensure our cakes are baked, decorated and delivered fresh.
We can even make replica cakes of your building. Most of our cakes are designed with the minimal amount of support. Why not taste the difference and order a sample of our cakes before ordering. The quality of our individually designed cakes is never in doubt.
Please note decorations may vary slightly as each cake is baked individually.
Price for this cake (As in image) £75.00
Use the form below to order online, or if you prefer speak to or email us direct.