Sewing Box Birthday Cake
SKU: [ bir-340 ] Cake sizes used (12 x 10 inch)
Approx Portions (45+)
Available in a range of sizes and flavours
Click on the images for a larger view.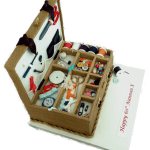 A beautiful traditional design sewing box birthday cake. This particular cake is made from our own
Gluten Free
recipe. It is also available in all of our other types of cake. Choose your cake type and flavour from our full range. The cake is made from a 12 inch x 10 inch cake and is laid out on a 14 inch pre-iced cake board. The outside of the sewing box birthday cake has been given the old style weave effect. Hasps and Clasps have been added to the top of the lid, and, to the front of the box.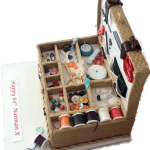 The compartments on the inside of the box have also been decorated with the same weave effect. Each item, both in the box, and attached to the lid are totally edible. These have all been made from icing. The sewing box birthday cake is approx. 4 inches high on the sides and front. Inside the box we have placed, cotton reels, buttons, beads, scissors, thimble and lots of over items. The linside of the lid has had a cotton picker, needles in a case, larger scissors and other items added. Creating, colouring and shaping all the individual items in this sewing box birthday cake, together with decorating takes about 12 hours.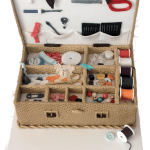 We enjoy making these bespoke cakes and this particular cake would go well with our singer sewing machine cake. The cake is also available in various sizes which can be priced separately, depending on your requirements. This particular cake was made for a 60th birthday and was a total surprise for them.
Whether you would like a bespoke 3D birthday / celebration cake or just a simple plain cake, we are happy to provide them for you. All of our cakes are baked the traditional way. We use only FRESH ingredients in all of our cakes. Every cake is made with the same care and baked / decorated no more than 48 hours prior to delivery / collection.
If you have a particular design other than above, please send us an enquiry stating your requirements. If you use our enquiry form from the contact menu above, you are also able to attach up to 4 images if you wish.
Each cake is quoted separately depending on the individual requirements, and the decoration.
Please note decorations may vary slightly as each cake is baked individually.
Price for this cake (As in image) £90.00 (Other Sizes Available On Request)
Use the form below to order online, or if you prefer speak to or email us direct.