Harry Potter Cake
SKU: [ child-341 ] Cake sizes used (10 inch)
Approx Portions (30+)
Available in a range of sizes and flavours
Click on the images for a larger view.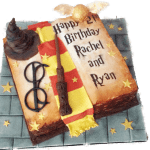 A great hit with both children and adults alike, is this Harry Potter Cake. Made from a 10 inch cake. The size of the book is approx. 10 inch x 8 inch x 3 inch. More than enough for 30 plus guests. Choose from over 38 of our most popular flavours. Perhaps you have a Harry Potter flavour you would like us to make for you. Whatever ages are attending the celebration, this Harry Potter cake will certainly be the star attraction for them.
The cake is laid out on a 12 inch cake board. The board has been decorated to resemble the old traditional slab floor effect. With just a few iced stars placed randomly on the board to set it off and then coated in glitter.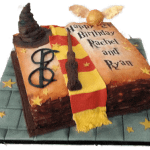 Everything on this cake is totally edible and made from one of our many cake flavour recipes or icing. We have included with the harry potter cake, his wand (
often referred to as his
Phoenix wand), his sorting hat and the golden snitch. Together with his glasses, these are laid on top of his spell book, and of course, his scarf. Inscribed on the right hand page is the birthday message for the recipients. This has been made in the Harry Potter style font. The top page of the book has been decorated in a way that gives it an aged look. All around the sides of the book have also been coloured and carved in such a way as to make the whole Harry Potter Cake book look old and weathered.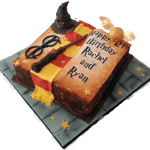 Around the base of the cake we have continued to decorate it with a hardback book effect. The Harry Potter movies which were recreated for the J K Rowling books were a box office smash world wide. All age groups were entertained with these movies. We have many requests to create all kinds of cakes based on different movies. This Harry Potter cake is just one of many. If you have an item from one of the films that you would like us to create (even hogwarts itself), then please feel free to contact us directly. We will be happy to supply you with a stunning cake that will catch everyones eye.
Please note decorations may vary slightly as each cake is baked individually.
Price for this cake (As in image) £75.00 (Other Sizes Available On Request)
Use the form below to order online, or if you prefer speak to or email us direct.