Asian Wedding Cakes Derby Nottingham
Asian Wedding Cakes Derby Nottingham.
Asian wedding cake styles are changing with the times. Though many couples still opt for the elaborate colours and styles, we are seeing more and more orders that blend the traditional Asian style and design with the Western style wedding cake. Kimboscakes provide quality fresh baked cakes for Asian Weddings.

Asian Wedding Cakes Derby Nottingham more information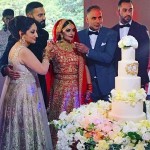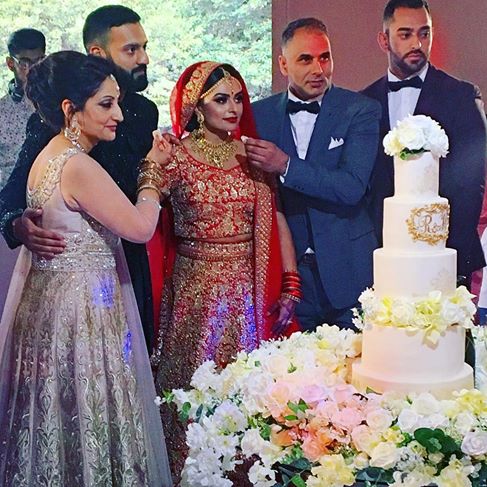 We have been providing all types of Asian wedding cakes over the years. These range from traditional simple western style, to the more elaborate. We work with all our couples to acheive the desired look and effect. Our Asian wedding cakes have ranged from three tiers up to and including thirteen tiers or more.
Our fresh baked cakes that we provide for Asian Weddings include a wide range of flavours for both Egg Free and Halal.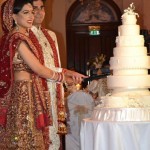 Though we mainly cover the Derby and Nottingham areas, we also travel further afield. One of our most memorable
Asian Wedding Cakes
was delivered and setup at the Langham Hotel in London. (
View Langham Hotel Website here
).
This particular cake, (as shown), is 9 tiers in height and consisted of a total 12 tiers. There was a complete mixture of flavours for all the guests to choose from. We pride ourselves in providing quality cakes before price. Most Asian Weddings are attended by large numbers of guests. With this in mind, an Asian Wedding can be quite costly. When it comes to the wedding cake, we always do our best to work within a sensible budget.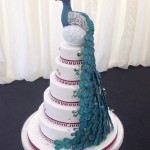 Elaborate to Simple and Effective
Lately we have seen an increase in the request for gold & silver coated tiers incorporated into the designs of the cake. This has also included mehndi designs overlayed on top of the glod or silver. Other favourite colour choices include deep blue and red together with white.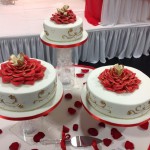 Our cake flavours are also very popular. We have over 40 different cake flavours for you to choose from. Each of our cake flavours are made with real fresh ingredients. A full list of flavours can be found
here
. These range from Mango and Cardamom through to Passion Fruit, Mango and many more.
Recommended by many couples and suppliers
Kimboscakes are recommnded by many of our happy couples together with suppliers and venues for Asian Weddings. Even guests who have seen our cakes at a friends wedding reccomend us. Not only for our quality and taste of our cakes, also, for our attention to design and detail. We also allow for the fact that most Asian weddings rarely run to schedule when it comes to the actual setup at the desired venue. Many times we arrive and work with other favourite suppliers and we have a good working relationship with them. (Especially when it comes to waiting for a dance floor to be put down).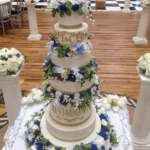 Samples and consultations
At Kimboscakes, we understand that a consultation can be with either just the Bride and Groom or with other members of the family. As we are fresh baked and registered as Home Bakers, we welcome you to relax and enjoy your consultation in the comfort of our own home. Samples are made to order for each consultation and are prepared 48 hours in advance, so you get a real feel for how your wedding cake will taste on the day. All our cakes are baked and decorated no more than 72 – 48 hours prior to your wedding day.
Preparation and Decoration
On many occasions, in order to ensure total freshness of your cake,  it will mean we will work continuously on the decorating of your cake, from the time it is baked and settled. With all fresh ingredients ranging from, Real Belgian Chocolate to Fresh fruit, such as, Lemon, Lime, Orange, Mango and much more.
All of our wedding cakes are decorated/coloured by hand
. See just some of our wedding cakes
here
We are also on
Facebook
and other social media sites.
Our pricing structure
Every cake is different and unique in its own way. You will find we are very competitively priced. We know that everyone has a budget in mind. Providing there is a sensible realistic budget, most couples find our pricing is generally within budget and at times less than what they think.
Contact us for Asian Wedding Cakes Derby Nottingham
Please feel free to contact us for Asian Wedding Cakes Derby Nottingham (Or other areas). You can do this either by using our contact form which can be found here or call us direct on 01158 24 00 44 between 11:00 and 17:00. We look forward to hearing from you and being a part of making your special day memorable.