Microsoft Research Corporate Mini Cakes
SKU: [ corp-312 ] 300 Mini Cakes
4 Different flavours
Individually Made
Individually Boxed
This is another order that we have provided for the Microsoft Research team based in Cambridge. There are 4 different flavours provided with these cakes.
Each one has been individually made by hand and then decorated. All of the cakes were made over a 48 hour period prior to their journey down to Cambridge. These corporate cakes are treated with the same care and attention as any other cake we bake and make.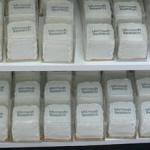 Nearly all of our unique flavours are available for these mini corporate cakes. Microsoft Research have moved to bigger premises over the past 12 months. We were only to pleased to provide them with another batch of our unique cakes when they asked us.
Every cake is iced by hand onto gold bases and and placed into their individual transparent boxes. It took us a full 48 hours to ensure that every cake was prepared and made ready.
On the top of each mini cake there is a Microsoft Research logo, which of course is also edible.
We provide corporate cakes to all companies for any occasion. From staff paries to corporate gatherings and meetings. All cakes are individually baked and freshly prepared to order.
The 5 tier stand for these mini cakes was designed and provided by Microsoft Research staff. It was made from toughened cardboard and provided a more than suitable display.
The mini cakes were made from our very own fresh baked madeira recipe. Other designs and colours are also available to suit your requirements.
To order your own design of these cakes, please contact us direct with your requirements. You can either use our contact form on the website or call and talk direct using the number above.
All calls and correspondence relating to your enquiry are treated in the strictest confidence. So if you have a new company launch or, if you are re launching under a new logo, you can be sure that information provided will not be disclosed to third parties.
Price for these minis each (As in image) £5.00
Use the form below to order online, or if you prefer speak to or email us direct.