Lace effect wedding cake dress style
SKU: [ wed-257 ] Cake Sizes ( 10″, 8″, 6″ and 4″ )
Approx Portions ( 80 )
Available in a full range of cake sizes, flavours and colours.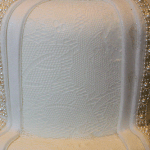 Lace effect style. A beautiful tall 4 tier lace style wedding cake. This 4 tier wedding cake is decorated down the front with edible lace effect icing. With a tapered effect from base to top giving the A line look.
Down the side of the lace we have decorated it with a band and decorated it with a light beading effect which enhances the lace. If you have lace on your wedding dress, then all you have to do is obtain a 12″ square piece of this lace and we will replicate the identical design onto your wedding cake.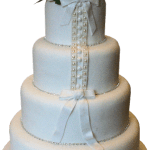 The base of each tier has been decorated with Diamante chain, Whilst the top is decorated with your choice of flowers. Use either real, false or hand iced flowers on top or if you wish add a cake topper.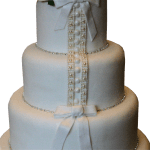 Around the back of the lace effect cake you will see we have decorated this to replicate the effect of button. At the base we have placed a hand made iced bow. Again down the sides of the buttons we have decorated it with a light beading effect.
NB: Beading effect may differ from cake to cake
Please note decorations may vary slightly as each cake is baked individually.
Price for this cake (As in image) £380.00
Use the form below to order online, or if you prefer speak to or email us direct.