Jack Wills Bag
SKU: [ BIR-201 ] Cake size (As in image) 10 x 8 x 5 inch
Approx Portions (100+)
Cake flavours (Most flavours available)
This is a cake and a half. A Jack Wills Bag replica. This cake is made with our own recipe for chocolate fudge cake. A beautiful moist cake filled with our luxurious buttercream. The whole cake is totally hand shaped and decorated. All the detail on the cake (with the exception of the silver wire for the stars) is totally edible.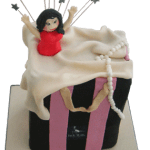 Made to replicate someone's love for the designer clothing label, we decided to have the girl popping out of the top of the bag. A pearl necklace together with handmade iced clothing on the top of the bag gave it a finishing touch.
Special attention was given to getting the logo for Jack Wills bag correct and also to ensure the carrier bag handles had that original cotton look to them.  We deliver all of our cakes all over the UK in person. Our cakes are all made fresh to order using only the finest ingredients.  For our chocolate we will only use real Belgian curvature chocolate.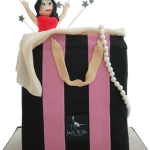 Our cakes are all made by us in person; we do not use any pre made long life cakes. This ensures our customers get what they are paying for. Quality, freshness and variety, at affordable prices. Our cake flavours are all made from real fresh ingredients. Our chocolate sponges and fudge cakes are made with real Belgian Chocolate.
This cake is also available in other flavours and sponge. A range of flavours can be find on the link above.
Price of this cake (As in image) £125.00
Use the form below to order online, or if you prefer speak to or email us direct.