Horse Birthday Cake 3D
SKU: [ child-332 ] Cake size (2 x 12 inch)
Approx. portions as in picture (30-35)
Range of flavours available.
Hand carved horse birthday cake 3D. This cake was made from our own vanilla cake recipe. Baked, carved and decorated less than 48 hours prior to collection. The customer absolutely loved this cake when they came to collect.
We were provided with one or two images together with the colours of the horse and asked to replicate it into a cake. As all of our cakes are baked fresh to order, this horse birthday cake was a nice little challenge to make. Everything about this horse birthday cake 3D is totally edible. The complete horse is completely made up from our fresh baked cake, including the head. We only used 2 supports in the whole design.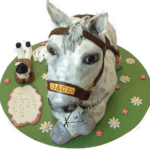 The cake is made in 2 sections comprising of the body and the head. The saddle and the little girl and hand shaped from icing. We do not use cake molds for our figurines or other items. We prefer to make everything by hand.
Once the cake was in the desired shape, we then set about coating it in soft fondant. It is then decorated by hand to replicate the images given to us.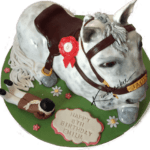 A lovely surprise for the equestrian birthday, whether it is for a boy, girl, lady or man. If you have a horse, or, any other animal that you would like making into a cake for a surprise birthday, then please feel free to contact us. We will be only to happy to help and provide it for you.
Please note the design can be changed to suit your own requirements.
Price for this cake (As in image) £95.00
Please note decorations may vary slightly as each cake is baked individually.
Use the form below to order online, or if you prefer speak to or email us direct.