Bing Flop Cbeebies Birthday Cake
SKU: [ child-333 ] Cake size (8 inch)
Approx. portions as in picture (15-20)
Range of flavours  and sizes available.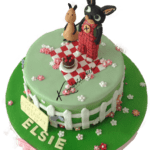 Bing Flop from cbeebies. This bing and flop birthday cake is made up of an 8 inch base. The base cake is also Egg Free and Gluten Free. Like our other cakes, our egg, gluten free cakes are available in a wide range of fresh original flavours. As we bake all of our cakes fresh to order, utilising fresh ingredients, we can offer over 30 different flavours.
Gluten and egg free cakes would only be used for a standard celebration cake due to its moist but very delicate texture it wouldn't work so well with a 3D cake design.
We based the design of this cake on a garden tea party complete with handmade caricatures "Bing and Flop". For those who do not know, these characters are from the children's television program called "Cebeebies"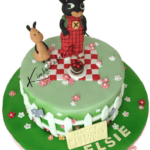 The base tier of this bing flop cbeebies birthday cake has been decorated with a white picket fence and blossom flowers, together with some butterflies. During the course of our work, we often are requested to make all different types of cartoon characters for children's birthday cakes. Of course we are always happy to oblige. Each of our iced characters are all shaped and decorated by hand.
Of course we also make these characters as 3D cake images. Browse through our site to see just some of the ones we have completed. If your child has a specific character they like, and you do not see it on our website, it may be we have already completed one but not uploaded it at present.
Please feel free to contact us with your specific birthday or celebration cake requirements. We will always work with our customers to achieve their required goal, and, we always do our best to produce the end product within their reasonable budget.
Please note the design can be changed to suit your own requirements.
Price for this cake (As in image) £60.00
Please note decorations may vary slightly as each cake is baked individually.
Use the form below to order online, or if you prefer speak to or email us direct.