Asian Wedding Cake
Asian Wedding Cake
Click on the images below for a larger view.
SKU: [ wed-342 ] Cake sizes used (12 inch, 10 inch [double height] 8 inch, 6 inch, 4 inch)
2 x 12 inch cutting cakes also provided.
Approx Portions (300+)
Available in a range of sizes and flavours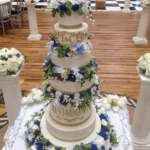 This particular Asian Wedding Cake is just one of many that we are asked to make for our amazing couples.
Set on a flower bed cake stand, this Asian Wedding Cake is made of of 9 tiers including seperators. All of our wedding & celebrations cakes are available in a wide range of types and flavours. This includes Egg free, Halal, Vegan, Vegetarian and many more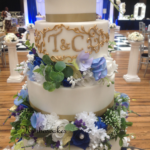 The cake has an ivory base colour on all tiers. (Other colours are also available). At the base of the tiers of this gorgeous
Asian Wedding Cake we
have a shimmering gold ribbon around them
.
The second tier from the top shows the Bride and Grooms initials. These are enclosed in a beautiful decorative patern. All of these are both hand made and painted in edible colouring.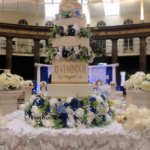 We incorporated the date of the wedding on the tier lower down. This is also hand made and coloured in a shimmering gold effect. Different flavoured cakes were provided for all the tiers, along with seperate cutting cakes in order to cater for the amount of guests.
All the flowers that we provided are false foam style and the colours set the cake of beautifully. We also provide fresh flowers and hand made iced flowers, if you prefer. In the price shown below we have included delivery and set up of this gorgeous cake to the Amazing Devonshire Dome in Buxton. This amazing venue has to be seen to be apopreciated. It can also cater for up to 800 people, so, it is an ideal choice for the larger weddings.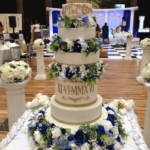 Order this Asian Wedding Cake
Please note decorations may vary slightly as each cake is baked individually.
Price for this cake (As in image) £750.00 (Other Sizes Available On Request)
Use the form below to order online, or if you prefer speak to or email us direct.
More about our cakes
If you have a particular design you would like for your wedding cake, then please feel free to contact me to discuss your requirements. Large or small, every wedding cake is made with the utmost care and presentation. With over 40 cake flavours to choose from, you will be spoilt for choice. All of our cakes are baked and decorated less then 48 hours prior to delivery and set up. We bake our cakes the traditional way from scratch, using only fresh ingredients. We provide samples at all of our consultations on request.
Our cake flavours
Most of our flavours can be baked into all of our cakes, including Gluten Free, Dairy Free, Egg Free and Halal. Have you ever tried a cake sample that seems crumbly and dry. Then come and taste our cakes. We do not use additives / flavours or long life sponges or mixes. We pride ourselves in providing all of our customers with real home made cakes. Take a look at our unique Peacock Wedding Cake here