Springbatt Dog Birthday Cake
SKU: [ bir-304 ] Cake size (approx) length 14″, height 8″ width 6″
Other sizes are available.
Approx portions 30
Most cake flavours / types available
Made specific to our clients requirements, this Springbatt dog novelty cake is a caricature of the images we were sent of the Springbatt cross dog. These dogs are known for their very good nature, or so our customer thought. They enquired if we could provide a 3D cake of her very own dog customised with his own scarf. It turned out that the dog had a little bit of a destructive nature (well it's fun for the dog) and loves to chew any items it can get hold like babies dummies, TV remote and paper (although the list might be endless).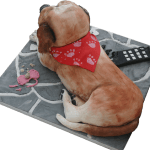 The cake he is sitting on board has been decorated to represent a tiled floor. The cake was baked and decorated less than 36 hours prior to delivery in Nottingham, East Midlands.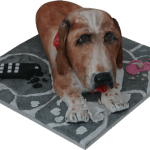 Like all of our novelty cakes, this cake was hand decorated. We asked the customer to provide several photos of the dog in order to get as much detail as we could onto the cake.
The Springbatt dog is a Springer Spaniel crossed with a  Basset Hound and is becoming very popular. With it's distinctive long body and short stumpy legs it is a very loveable and loyal dog. Would you like your favourite pet in a cake sculpture? Please feel free to contact us.
We deliver all of our wedding and celebration cakes in person UK wide.
Please note decorations may vary slightly as each cake is baked individually.
Price for this cake (As in image) £95.00
Use the form below to order online, or if you prefer speak to or email us direct.