Singer Meets Vuitton
SKU: [ bir-269 ] Cakes Used (Sewing Machine 2 x 12 inch) Handbag (10 inch x 8 inch)
Cake flavours (Most cake flavours are available for this cake)
Approx Portions (100)
Singer meets Vuitton.  Made by special request, this is a lovely mix of a Singer Sewing Machine style cake and a Louis Vuitton style handbag and shoe. Everything on this cake including the accessories is completely edible. Both the sewing machine and handbag novelty cakes are made completely from cake.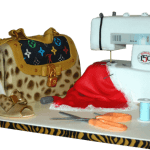 The Singer meets Vuitton cake was delivered to the venue by us in Derbyshire for a special celebration. the cakes are laid out on an iced 18 inch cake board. All of the accessories are hand made replicas and are made from edible flower paste. The Louis Vuitton shoe is approximately a real size 5 replica.
On the Louis Vuitton style handbag we have decorated it in the requested style for our customer which also matches the wrap around the cake stand.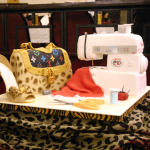 The replica markings on the hand bag cake are all completed by hand. For the singer sewing machine style cake, we have built this all from cake. Everything on this novelty cake is also edible, including the cotton spool, cloth and buttons.
This particular cake is available in a wide range of cake flavours, but due to the structure work involved some types of cake are excluded. A delivery service is available all over the UK for a nominal charge. Every cake is delivered in person by us.
For more information on this cake please feel free to contact me directly.
Please note decorations may vary slightly as each cake is baked individually.
Price for this cake (As in image) £190.00
Use the form below to order online, or if you prefer speak to or email us direct.