Sexy Blouse & Tattoo
SKU: [ adu-229 ] Cake size used (10″)
Approx Portions (35+)
Available in a range of colours and styles
Sexy blouse. A different style of our sexy blouse cake. Slightly but tastefully revealing. This style is made up of 3 cakes in total. The naughty raunchy cake is available in most flavours. You can see our customers favorite flavours from the above menu.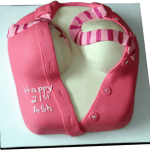 This cake is laid out on a 12″ cake board which has also been iced. Once the cake is carved and shaped it is carefully iced with a soft fondant which we colour by hand. On this particular celebration cake we have carefully placed a hand decorated tattoo to give it extra appeal.
The tie is also made from fondant and coloured and shaped by hand. The sexy blouse cake was delivered to one of our customers locally near Derby, so they were pleased to see that there was no delivery charge. Our cakes can also be collected from us in person if you wish.
If you would like some sexy lingerie made into a cake for someones surprise party, then we would love to hear from you. From blouses to lace stockings, basques to underwear. We will design the cake you require.
Please note decorations may vary slightly as each cake is baked individually.
Price for this cake (As in image) £65.00
Use the form below to order online, or if you prefer speak to or email us direct.