Sewing Machine (Singer)
SKU: [ bir-234 ] Cake size used (2 X 12?)
Approx portions (75)
Available in a range of colours, flavours and sizes to suit.
This novelty replica sewing machine cake was made for one of our customers in the Derby area. A suprise cake for one of their friends. The cake was made and modelled on a Singer sewing machine.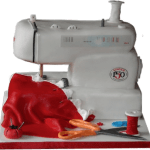 Made from a large 12″ cake. The extras seen on this cake are also all hand molded and made to replicate every other part of the machine. This included the cotton, reel, knobs and switches.
Not stopping there we thought as usual we would go that  extra bit as we like to do for all our customers, and to make it look more authentic, we added some replica edible material, scissors and button.
The only part of the cake that is not edible is the replica needle which forms a small support for the cake above it.
We can also replicate other items into 3D cakes for you. If you do not see a cake you like in any of our different cake sections then please do not hesitate to contact me direct.
Please note decorations and separator may vary slightly as each cake is baked individually.
Price for this cake (As in image) £450.00
Use the form below to order online, or if you prefer speak to or email us direct.