Radley Handbag Birthday Cake
SKU: [ bir-215 ] Cake size (10 x 5 x 4 inch approx)
Approx Portions (25-30)
Available in a wide range of colours and flavours to suit.
A Radley handbag cake which is an ideal birthday / Novelty / Celebration cake for the woman in fashion.
With attention paid to detail to emphasise all the extras you would find on a Radley handbag. Even the trademark discs and dog are made by hand from sugar icing.  Covered in green fondant this bag is individually baked with our superb moist fresh vanilla sponge. Hand carved to shape and decorated. Real vanilla pods are used for the flavouring as in all of our Vanilla cakes.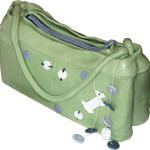 This Radley handbag novelty birthday cake is available in a full range of colours and flavours to suit everyones needs. We make a wide range of handbag cakes. Whatever your favourite is, we will replicate it for you. Just use our contact form and send us the images of the handbag that you wish to be made for you or your partners birthday.
Did you know we also make fashion shoes and shoe boxes? All of our bespoke 3D cakes are baked and carved by hand to shape. Using only fresh ingredients, all of our cakes are baked and decorated less than 48 hours prior to delivery / collection.
We deliver all of our Birthday / Novelty / Wedding / Anniversary and celebration cakes in person within 48 hours of being baked to ensure complete freshness.
Please note decorations may vary slightly from cake to cake as each cake is baked individually.
Price for this cake (As in image) £75.00
Other sizes available on request
Use the form below to order online, or if you prefer speak to or email us direct.