Porl Thompson Guitar Cake
SKU: [ bir-270 ]
Cake length 23 + inches
Cake width (largest width) 10 inches
Almost to scale.
Flavours available (Most flavours)
Approx portions (75+)
Porl Thompson Guitar. This novelty guitar cake joins our ever increasing range of bespoke novelty design instruments. As with all of our cakes, this birthday cake is baked and decorated from scratch, less than 48 hours prior to delivery.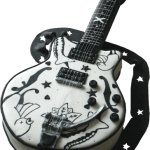 Laid out on an iced 28 inch long cake board the guitar cake is made using 3 x 12 inch cakes. With flavours and styles to choose from you will really be spoilt for choice on this novelty cake.  The guitar has been hand decorated to replicate a photo of the guitar that the customer sent us.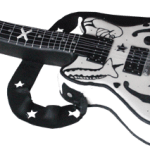 In order to give this Porl Thompson cake a more realistic look we opted for non edible strings as it was for an adult party night. The guitar strap is also made from edible flower paste and designed to match.
See this Porl Thompson guitar at the Schecter Vault here
This particular cake was delivered to the canal waterfront in Nottingham for the birthday party. Time was taken to replicate the design of this Porl Thompson Corsair in as much detail as possible. Working from images provided and obtained, this 3d cake is set in proportion to the real thing. A favourite that we always get asked to provide is the Fender Stratocastor. We will also provide additional cakes on request to replicate top brand named Amplifiers.
Please note decorations may vary slightly as each cake is baked individually.
Price for this cake (As in image) £125.00
Use the form below to order online, or if you prefer speak to or email us direct.