Peacock wedding cake
SKU: [ wed-302 ] Cake sizes (As in picture) 12 inch, 10 inch, 8 inch, 6 inch and 4 inch
Approx portions 150 +
FULL RANGE OF COLOURS ARE AVAILABLE
Different sizes are also available
Full range of flavours, including Gluten and Egg free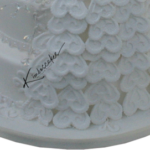 A unique bespoke design 5 tier wedding cake. Our Peacock wedding cake is a real eye catcher for that grand look to your wedding. This cake can be up-sized to suit your requirements, and, as with all of our cakes, each tier can be different to the others. Our full range of cake flavours, cake types and food intolerance cakes can be used for this magnificent cake. See our blue peacock wedding cake
here
The whole cake (As shown) is set on a 14 inch base board. This particular example has been left plain in colour, but it is available in a wide range of colours to match your wedding theme.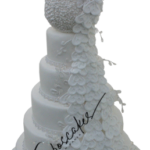 The base of each tier has been decorated with translucent pearl effect beading. The top of the cake has been molded to replicate the head and chest of a Peacock with the crown and feathers hand made onto the body. The trailing hand made iced feather effect leading down the back of the cake from the body can be coloured to requirements. We have also added strings of translucent beads and leaves through the feather effect. As with all of our cakes, this wedding cake is also made free from animal fats and products.
Please note decorations may vary slightly as each cake is baked individually.
Price for this cake (As in image) £525.00
Use the form below to order online, or if you prefer speak to or email us direct.