Lambretta Scooter Cake
SKU: [ bir-324 ] Cake size approx. (2 foot long x 1 foot high)
How about showcasing a 3D Lambretta  scooter as a surprise cake for the celebrant and also wow their guests? The lambretta scooter was made to rough scale of a lif size one. The framework was made in house to support this cake. Of course as with all of our sculptured 3D cakes, where required, the base is covered in food grade foil. The scooter was made from our own freshly baked Madagascan vanilla sponge and then carved to shape the body of the bike.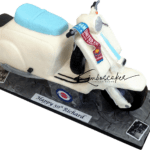 The wheels are none edible and are used as part of the decoration only. They are of course iced and decorated to repicate the wheels. As the celebrant for this cake is an avid West Ham supporter and a Paul Weller fan) we were commissioned to place a fondant version of a football scarf and images of Paul Weller from the group "the Jam" onto the bike itself.
From start to finish the lambretta scooter cake had taken over 11 hours of work, from baking to cutting and assembling the bike frame and decorating.
The lambretta scooter can have your very own personal touch added and decorated to your own choice of colours. This particular cake was delivered to the West Ham football ground for the recipients party. They had hired one of West Ham's private function rooms. Needless to say the celebrant had no idea that he was getting this cake. It was all a total surprise for him.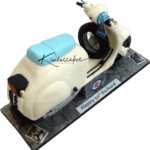 We stayed in touch with the customer from start to finish. This was a timed delivery into West Ham, London (a steady 2 hour drive). Like all of our distance deliveries, we deliver and set up all of our cakes in person. We never use a third party courier, and we always go prepared just in case of any small mishaps.
Arriving in plenty of time we always allow for hold ups en-route and leave early. Our customers are contacted immediately if and when we come across any delays, and we also let the venue know. To date so far we have travelled well over 150,000 miles for our ling distance deliveries. We are pleased to say we have a 100% record.
Whatever cake you require we will deliver to all locations in the UK (Mainland). We will even fly out to celebrations or weddings in different countries if you require, and take care of your cake for you. (There would of course be an extra charge).
Price for this cake (As in image & description) £150.00
Please note decorations may vary slightly as each cake is baked individually.
Use the form below to order online, or if you prefer speak to or email us direct.