Jammie Dodger Cake
SKU: [ bir-315 ] Cake size used (As in picture) 8 inch
Approx. portions (As in picture) 24
Most of our cake flavours available
Full range of fillings available
Jammie dodger cake. What can we say. One of our customers is a jammie dodger fan. Set on a 10 inch base board that has been iced. This jammie dodger cake was made from an 8 inch soft vanilla sponge. It can also be made in many other flavours that we list.
The cake is coated with our very own recipe of vanilla butter cream and then iced in 2 sections. The jammie dodger cake has a soft filling of butter cream is in the middle
and is coated with our raspberry conserve. The outside edge of the biscuit has of course been replicated in the same style as the biscuit.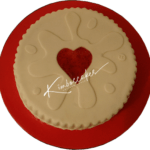 The traditional heart that you normally find in the biscuit has also been carved out and filled with conserve. The bespoke novelty birthday cake is certainly one with a difference. Do you slice it and eat it? Or, do you dip it in your tea first?
We have of course made other replica biscuits. This is just one of the many ones that we get to replicate. Other bespoke cakes include replica's of well known chocolate bars, crumpets and much more.
The top of the biscuit cake was replicated identically to the real thing. This also includes the well known initials found on each biscuit. If you have a particular cake you would like making to replicate someones favourite food, then please feel free to contact us direct. We will do our best to provide it for you.
The jammie dodger biscuits are of course made by Burton's Biscuit Co. and we are in no way associated with them. These biscuits are of course just about every child's (and adults) favourite.
Please note decorations may vary slightly as each cake is baked individually.
Price for this cake (As in image) £50.00
Use the form below to order online, or if you prefer speak to or email us direct.